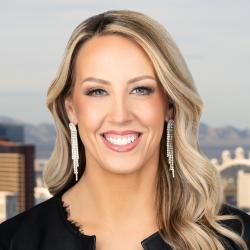 Rebecca DeLuca
Vice President of Destination Sales
Rebecca will directly oversee the sales and marketing efforts of the Destination Sales team to drive meeting and convention business to Las Vegas.
Rebecca joined the LVCVA from Caesars Entertainment, where she was Director of Key Accounts and Strategic Partnerships, leading the team responsible for driving third-party sales strategy. She has also held positions with the LVCVA, MGM Resorts International, Gaylord Hotels and Cardinal Health.
In addition to her robust sales and marketing experience, Rebecca is a highly collaborative leader who brings a proven track record of strengthening customer relationships, curating compelling marketing initiatives and launching strategic partnerships.
Rebecca currently serves as Chair of the U.S. Council on the Meeting Professionals International (MPI) Foundation and on The Above and Beyond Foundation Board. She holds a Business Administration degree in Marketing from The Ohio State University. She and her husband reside in Las Vegas with their two boys.
The LVCVA is charged with marketing Southern Nevada as a tourism and convention destination worldwide and with operating the 4.6 million-square-foot Las Vegas Convention Center. With 150,000 hotel rooms and 14 million square feet of meeting and exhibit space in Las Vegas alone, the LVCVA's mission centers on attracting leisure and business visitors to the area. The LVCVA also owns the Las Vegas Convention Center Loop, an underground tunnel designed by The Boring Company and the Las Vegas Monorail, an elevated 3.9-mile system with seven stops throughout the resort corridor.