Governance
LVCVA is governed by a Board of Directors comprised of 14 members representing the county, the incorporated cities within the county and gaming and tourism leaders. The board's primary function is to formulate policies to guide the LVCVA in fulfilling its mission of attracting an ever-increasing number of visitors to Southern Nevada. State law establishes the number, appointment and terms of the board members.
Board Policy
The board provides guidance and establishes policies to accomplish the LVCVA mission of attracting an ever-increasing number of visitors to Southern Nevada.
Board Meeting Schedule & Minutes
Board members sit on committees created to assist with the oversight of policies, budgets and accountability in five areas key to the mission of the LVCVA and its operation. See below for a list of committees and their Charters.
Convention Center Oversight Panel
Created by the Nevada State Legislature in 2016, the Convention Center Oversight Panel approves plans and financing for the expansion and renovation of the Las Vegas Convention Center. Members of the panel are appointed by the Governor of Nevada.
Our Leadership Team
Our executive team defines the long-term strategy and directs the day-to-day marketing efforts and operations of the LVCVA, including the Las Vegas Convention Center.
Meet the Team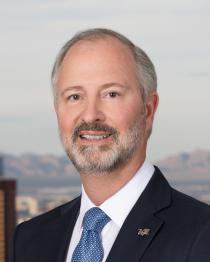 Meet Our CEO
Steve Hill
Chief Executive Officer/President
View Bio
Internal Audit Department
Audit Services supports management's commitment to strong controls and operational excellence by adding value and improving LVCVA operations. The department goal is to provide solid assurance for today and anticipation about tomorrow. It accomplishes this by performing and communicating relevant, reliable, timely and independent assessments of all organization locations and interests, and looking ahead to identify developing risks which may adversely impact the organization. Audit Services helps the organization accomplish its objectives by bringing a systematic, disciplined approach to evaluate and improve the effectiveness of risk management, control, and governance processes.