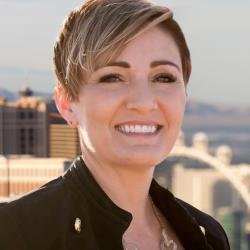 Ingrid Reisman
Vice President of Marketing
Ingrid Reisman serves as Vice President of Marketing for the Las Vegas Convention and Visitors Authority (LVCVA). The LVCVA is the destination marketing organization for Las Vegas and Southern Nevada, and its mission centers on attracting visitors by promoting the destination as the world's most desirable location for leisure and business travel. The LVCVA also owns and operates the Las Vegas Convention Center, the Las Vegas Convention Center Loop designed by The Boring Company and owns the Las Vegas Monorail, an elevated 3.9-mile system with seven stops throughout the resort corridor.
Ms. Reisman is responsible for managing the Las Vegas Monorail's marketing, sales, communications and e-commerce programs. Ms. Reisman joined the LVCVA in February 2021.
Prior to joining the LVCVA, Ms. Reisman spent 15 years with the Las Vegas Monorail Company as the Senior Vice President and Chief Marketing Officer where she was responsible for advertising, marketing, public relations, sales and government affairs activities. Before joining the Las Vegas Monorail Company, Ms. Reisman was responsible for the planning of all communications efforts, media relations, advertising and public relations for the Regional Transportation Commission of Southern Nevada (RTC).
Ms. Reisman's experience has won her many awards and recognition over the course of her career including Addy Awards from the American Advertising Federation of Las Vegas and an Emmy Award in the Pacific Southwest Region for a public service announcement about ridesharing as well as an Emmy for the "On The Move" television series which Ms. Reisman hosted.
Originally from Reno, Nevada, Ms. Reisman has lived in Las Vegas for more than 25 years. She holds a bachelor's degree in journalism and minor in business administration from the University of Nevada, Reno.