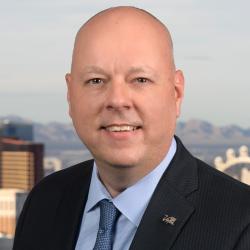 Darren Davis
Senior Vice President of Guest Experience
Darren will bring his tremendous experience and leadership skills to his role of Senior Vice President, Guest Experience and will oversee the Convention Services, Guest Experience, Facilities Services and Traffic Departments.
Most recently, Darren served as the Vice President with Foley Entertainment Group, where he oversaw The Dollar Loan Center, in Henderson, which is home to three professional sports teams as well as a variety of other events.
Prior to his time at The Dollar Loan Center, his experience spanned operating a wide variety of venue types, including a performing arts center, theme parks, convention centers and six major market arenas.
The LVCVA is charged with marketing Southern Nevada as a tourism and convention destination worldwide and with operating the 4.6 million-square-foot Las Vegas Convention Center. With 150,000 hotel rooms and 14 million square feet of meeting and exhibit space in Las Vegas alone, the LVCVA's mission centers on attracting leisure and business visitors to the area. The LVCVA also owns the Las Vegas Convention Center Loop, an underground tunnel designed by The Boring Company and the Las Vegas Monorail, an elevated 3.9-mile system with seven stops throughout the resort corridor.