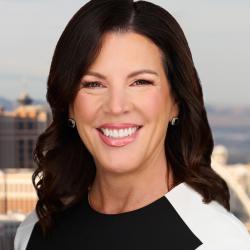 Lisa Messina
Chief Sales Officer
Lisa Messina serves as Chief Sales Officer for the Las Vegas Convention and Visitors Authority (LVCVA), the destination marketing organization for Las Vegas and Southern Nevada that also owns and operates the Las Vegas Convention Center (LVCC). In her role, Ms. Messina is responsible for leading and helping grow meeting, convention and tradeshow sales for Las Vegas and for the LVCC. She is the first to have ever held this position.
Ms. Messina's customer-focused sales acumen and experience allow her to forge meaningful connections with existing customers, attract new meeting and convention business to Las Vegas and collaborate with resort partners. She joined the LVCVA from Caesars Entertainment, where she was Senior Vice President of Sales, responsible for driving revenue strategy. Prior to Caesars Entertainment, she served as Executive Director of Intermediary Group Sales for Hilton Worldwide in addition to a past leadership role with ConferenceDirect.
A 12-year Las Vegas resident, Messina is a graduate of Cornell University's School of Hotel Administration and serves on the Board of Directors for MPI (Meeting Planners International), the meeting industry's premiere professional organization.
The LVCVA is charged with marketing Southern Nevada as a tourism and convention destination worldwide and with operating the 4.6 million-square-foot Las Vegas Convention Center. With 150,000 hotel rooms and 14 million square feet of meeting and exhibit space in Las Vegas alone, the LVCVA's mission centers on attracting leisure and business visitors to the area. The LVCVA also owns the Las Vegas Convention Center Loop, an underground tunnel designed by The Boring Company and the Las Vegas Monorail, an elevated 3.9-mile system with seven stops throughout the resort corridor.