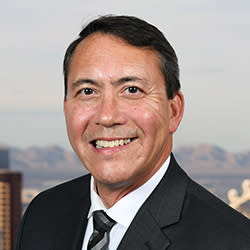 Fred Bradford
Vice President of Customer Safety
Fred Bradford serves as Vice President of Customer Safety for the Las Vegas Convention and Visitors Authority (LVCVA), the destination marketing organization for Las Vegas and Southern Nevada that also owns and operates the Las Vegas Convention Center, one of the largest convention centers in the United States.
Mr. Bradford is responsible for managing the Las Vegas Convention Center's security, surveillance, investigation, fire prevention, traffic and safety programs. Mr. Bradford joined the LVCVA in May 2021.
Prior to joining the LVCVA, Mr. Bradford served over 20 years with the Federal Bureau of Investigation as a Special Agent and also served as an Officer in the United States Navy. His other experiences include work as Chief of Staff and Senior Analyst for two U.S. defense contractors, Staff Assistant to a U.S. Congressman and the Taiwan/South Korea Project Manager for a U.S. Corporation.
Mr. Bradford's experience has won him many awards and recognition over the course of his career including numerous commendations from the U.S. Navy and Federal Bureau of Investigation.
Originally from Mount Pleasant, Michigan, Mr. Bradford has lived in Las Vegas for more than 20 years. He holds a Master of Business Administration degree in International Business from the University of Queensland and a Bachelor of Arts degree in Asian Studies from the University of Michigan.
The LVCVA is charged with marketing Southern Nevada as a tourism and convention destination worldwide and with operating the 4.6 million-square-foot Las Vegas Convention Center. With 150,000 hotel rooms and 14 million square feet of meeting and exhibit space in Las Vegas alone, the LVCVA's mission centers on attracting leisure and business visitors to the area. The LVCVA also owns the Las Vegas Convention Center Loop, an underground tunnel designed by The Boring Company and the Las Vegas Monorail, an elevated 3.9-mile system with seven stops throughout the resort corridor.